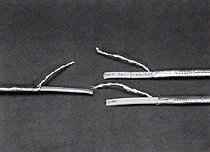 1.
Unravel 100mm of the braid from the
end of each heater and cut off 30mm.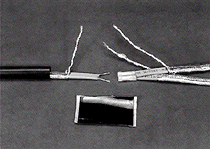 2.
Cut the remaining core material out,
close to the jacket. Cut 10mm off each
conductor on the two adjacent heaters.
Twist the remaining 10mm conductors
from the adjacent heaters together and
crimp each as shown. Slide the heat-shrinkable tube over the other heater,
insert the doubled-over conductors into
the other side of the crimp sleeve and
crimp it.